Small instalation scene, dedicated to the box.
See more images at SCULPTURE.
Just an experimental skate video I did from the rests of some skate footage and other trashy stuff, mixed with images of my MLIBTY Shadows sculpture series. The idea was to mix sculptures and skateboarding in one video, following the black&white aestetic of these sculptures and to wrap it all with a strong 2D graphic style, using the threshold effect.
MLIBTY Shadows are taking over the main role in the video, ignoring the individuality of the skaters as well as info in the credits of the video.
My video "No place for paper toys" will be screened on 10th  edition of Animateka, International animated film festival in Ljubljana, Slovenia, in the Eastern and Central European Panorama programme. The festival is taking place between the 2nd and the 8th December 2013.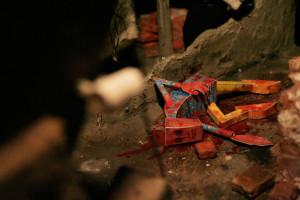 As a part of promotion for the new Paper Robots book, my ye-boT "Walking Jail" is available for the first time for free download from h.f.ullmann micro-site, along with all these beautiful paper robots!
For direct download, »grab it here!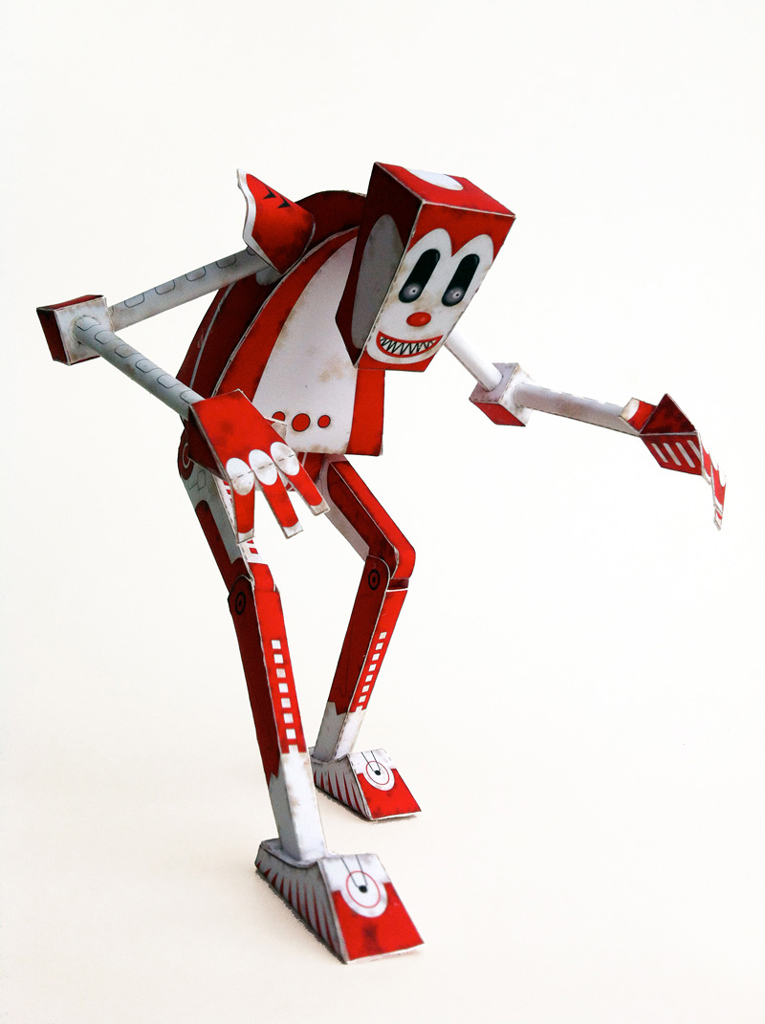 HAL-iquinbot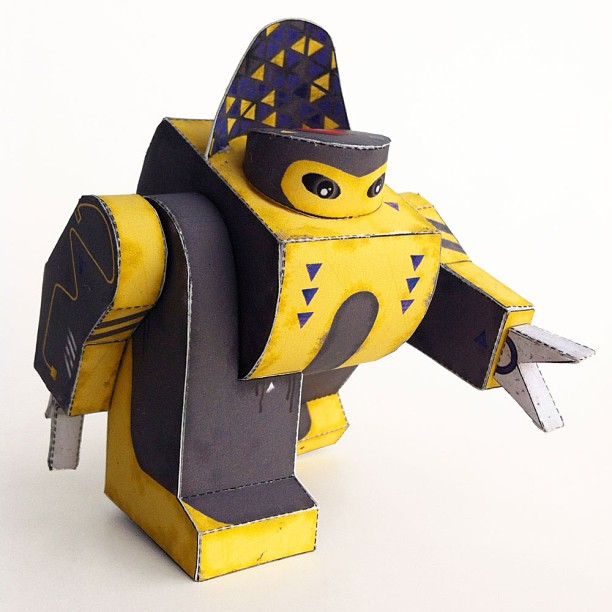 Swotbot
New paper toy book is coming out! This time it's a project runned by Nick Knite, for h.f.ullmann publishing. These are my two paper toys, made exclusively for the "Paper Robots" book, featuring 25 toys from 15 worlds finest papertoy artists! The book will be available on several languages.
It's a real pleasure to be, once again, in a company with paper toy artist like Sal Azad, Tougui, Vinsart, 3eyedbear, Nick Knite, MCK, Matt Hawkins, Marshall Alexander, Abz, Shin Tanaka, Brian Castleforte, Dolly Oblong, Jonny Chiba and Scott Schaller!
You can buy this book on Amazon!
My work "No place for paper toys" will be screened on Baranja Animation Festival (BAF!), from 23. to 24.08.2013, on Green Island in Batina, Croatia. This time it's surrounded by impressive list of international animations; it's a real pleasure to be part of it!
Check it out: BAF!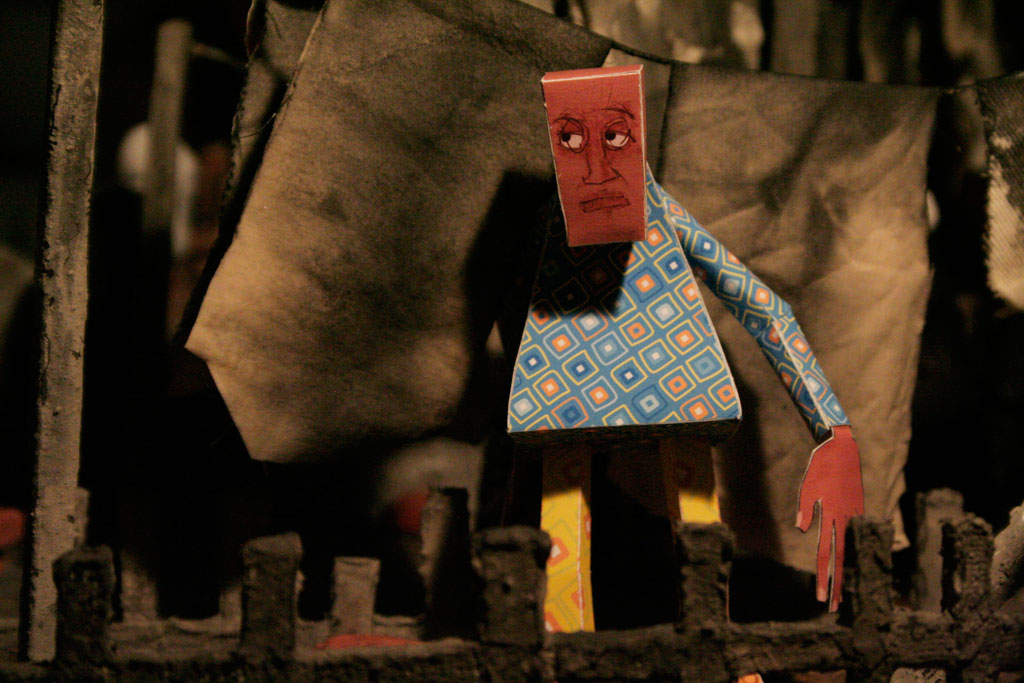 MLIBTY shadow scene with Paper Toy. Video out as well, some time in the future!!
Check it out!
I made a small update to the ye-boT blank template.
Check it out on ye-boT initiative page and join the project!
vrijeme: 07.12.2012. 20,00
mjesto: Zagreb; Greta, Ilica 92
url: http://greta.hr
U petak, 7. prosinca, u 20 sati, u Greti se održava projekcija videa 'St. Bugbot' autora Marka Zubaka. Glazbu potpisuje Dominik Harrer. Ulaz slobodan.
Ovaj rad je mješavina eksperimentalnog filma i umjetničkog projekta koji živi isključivo na Internetu. Video je rađen sa paper toys-ima iz ye-boT initiative, dostupnih na www.yebomaycu.com
ye-boT je mali papirnati robot koji ima pokretne dijelove, a gotovo svi radovi su dostupni za besplatan download sa prije navedene stranice, pri čemu je važno naglasiti da se kolekcija sastoji od 'custom' radova umjetnika iz cijelog svijeta, a broji preko trideset personalizacija. Inače, ovaj projekt je otvorenog tipa i bez roka isteka, tako da se zainteresirani kreativci i dalje uključuju u njega, a rad 'St. Bugbot' Markov je drugi video za ye-boT projekt. Prvi uradak: 'Thought control' može se pogledati na http://vimeo.com/13330602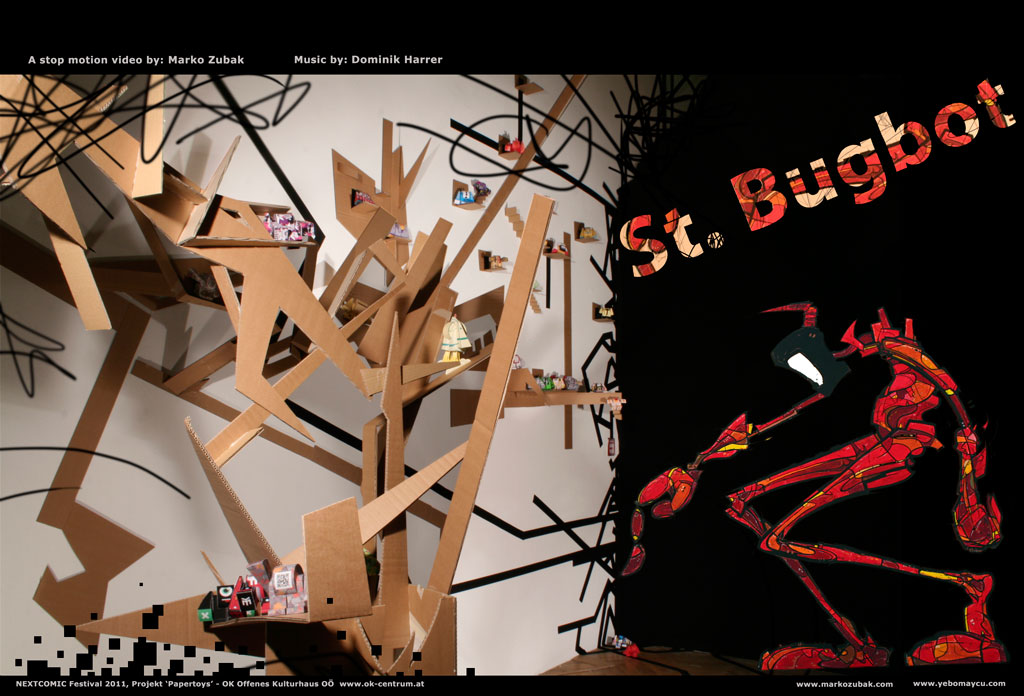 Kako je nastao video St. Bugbot:
Video je snimljen tijekom jednomjesečnog 'Artist in residence programa' u OK Offenes Kulturhaus OÖ u Linzu, Austriji, kao dio PAPERTOYS projekta tokom NEXTCOMIC 2011 festivala.
Za potrebe snimanja cijela jedna prostorija bila je pretvorena u veliku instalaciju od papira i za trajanja izložbe ljudi su mogli slobodno šetati kroz scenografiju, dok sam u susjednoj prostoriji izložio papirnate igračke napravljene posebno za online časopis II LOVE, koji izdajem od 2009. godine, te sve ye-boT-e objavljene do tog datuma, dok je sve bilo popraćeno sa video projekcijom prethodnog videa 'Thought control'.
O liku Bugbota:
Bugbot je lik koji sam izmislio prije petnaestak godina. To je zapravo svjetlosno biće, sličnije valu nego nekoj nagomilanoj tvari, tako da se može normalno kretati iz dvije dimenzije u tri, iz sjene u svijetlo, iz skice u skulpturu.
Muzej ulične umjetnosti se na poziv Vipneta proširio i na Žitnjak. Nakon pozivnog umjetničkog natječaja na kojem je sudjelovalo više domaćih street-art umjetnika, glasovanjem zaposlenika Vipneta kao najbolje kreativno rješenje izabran je moj rad. Pogledajte umjetničko djelo na površini od preko 1400 m2 i "making of" video.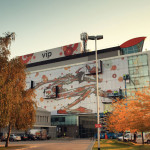 International festival of digital arts & new media
Historic center of Athens, Stoa Kourtaki
18. – 20. May 2012
SCREENINGS:
This year's program exceeds 15 hours in duration presenting several aspects of contemporary creation and examining topics such as the economic crisis, the relationship between nature and human societies, technological developments as well. One of the five main Blocks of the festival program, consisting of Video Art, Animation, as well as selected compilations from various International festivals, will provide viewers with the opportunity to familiarize themselves with a series of production techniques from all over the world.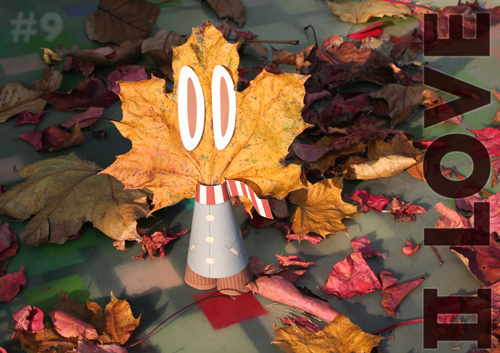 I always have less and less time for side projects, but after relatively long period, I managed to publish another issue of II LOVE. It's not big edition, but I'm really proud of the exclusive toys featured in this number! Thank you guys!!
Interviews: Matt Hawkins, Josh Buczynski, Adam Lawrence Article:NextComic festival: Paper Toys in OK Offenes Kulturhaus Paper toys:Matt Hawkins, Josh Buczynski, Adam Lawrence
Free direct »download or read on issuu.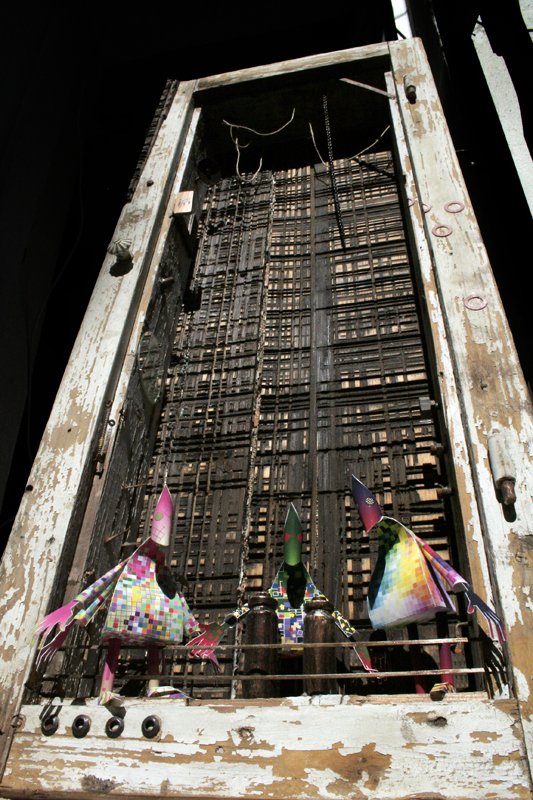 Amores de papel y mundos de cartón. Marko Zubak.
En este caso les traemos una nota que nos dió el artista croata Marko Zubak (a.k.a. Yebo Maycu) quién además diseño especialmente para BCOD un paper toy, el cual podrán ver y descargar al final de esta nota! Hoy más que nunca… Read the full article on BeCreativeOrDie!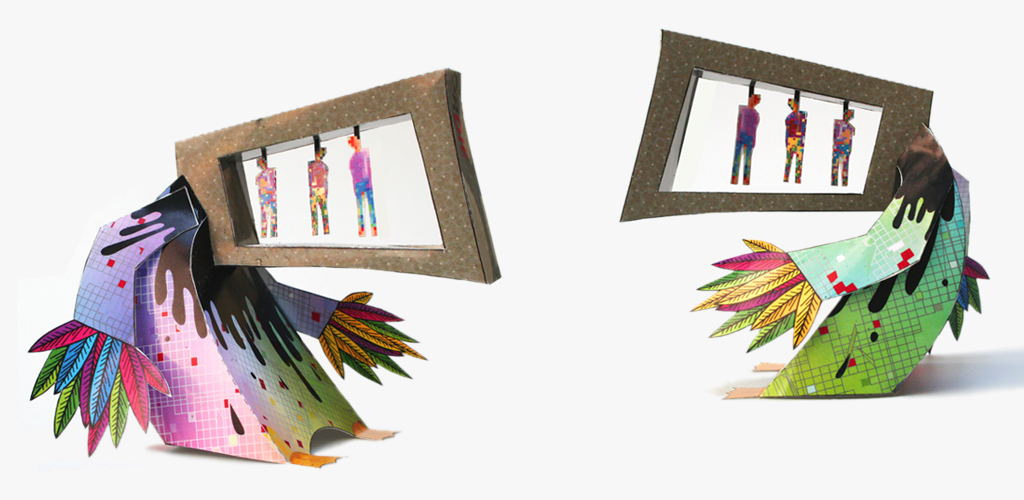 BCOD, the exclusive toy I made for the blog, inspired by it's name. ››download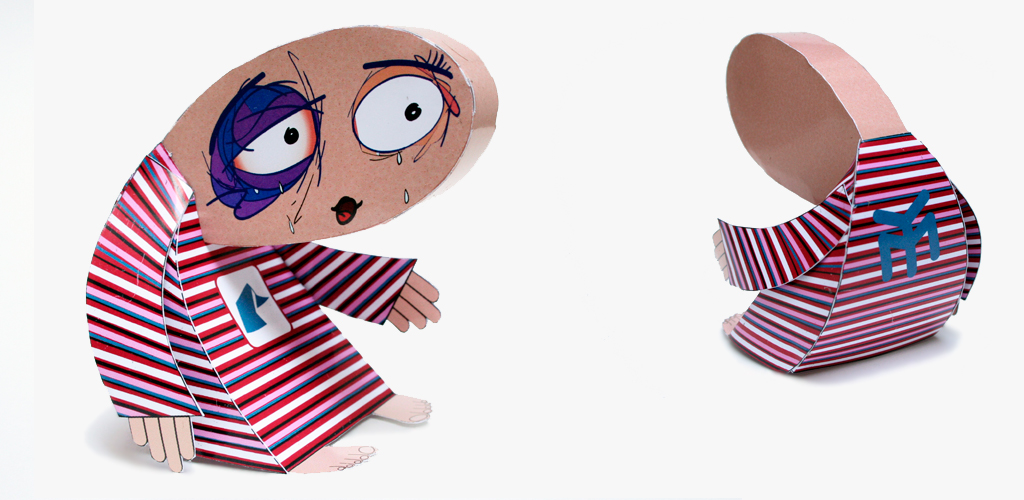 I made this paper toy specially for Cooper's 2nd Annual Group Art Show at Munky King Gallery, Sept. 10, 2011. With more than 100 artists from around the world participating in the show called "Stop It!", the aim is to bring the awareness to bullying and cyber bullying.
This toy will be available for free download after the show, so be sure to come back and get my latest work!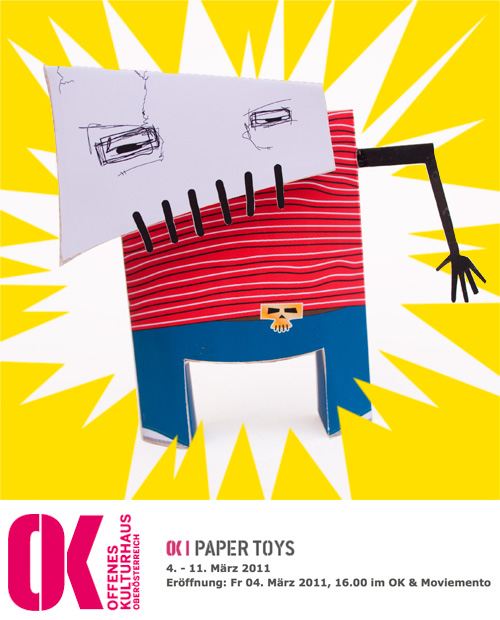 Exclusive paper toy I did for my paper toy exhibition, as a special feature of NextComic festival in Linz, is available for free from today!
» download
This is my current exhibition @ CovArt gallery, in Luxembourg. The sculptures and big paintings are exposed for the first time on this show and they are accompanied with few older works. The gallery space is really great, illumination is excellent, not to mention Philippe et Catherine COUPELLIER, gallery founders!
You can see more images on Flickr.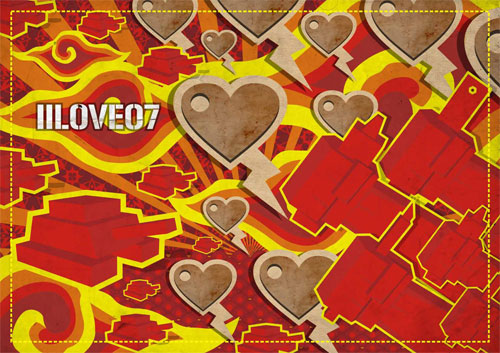 Click here for direct download
or visit yebomaycu.com for older issues.